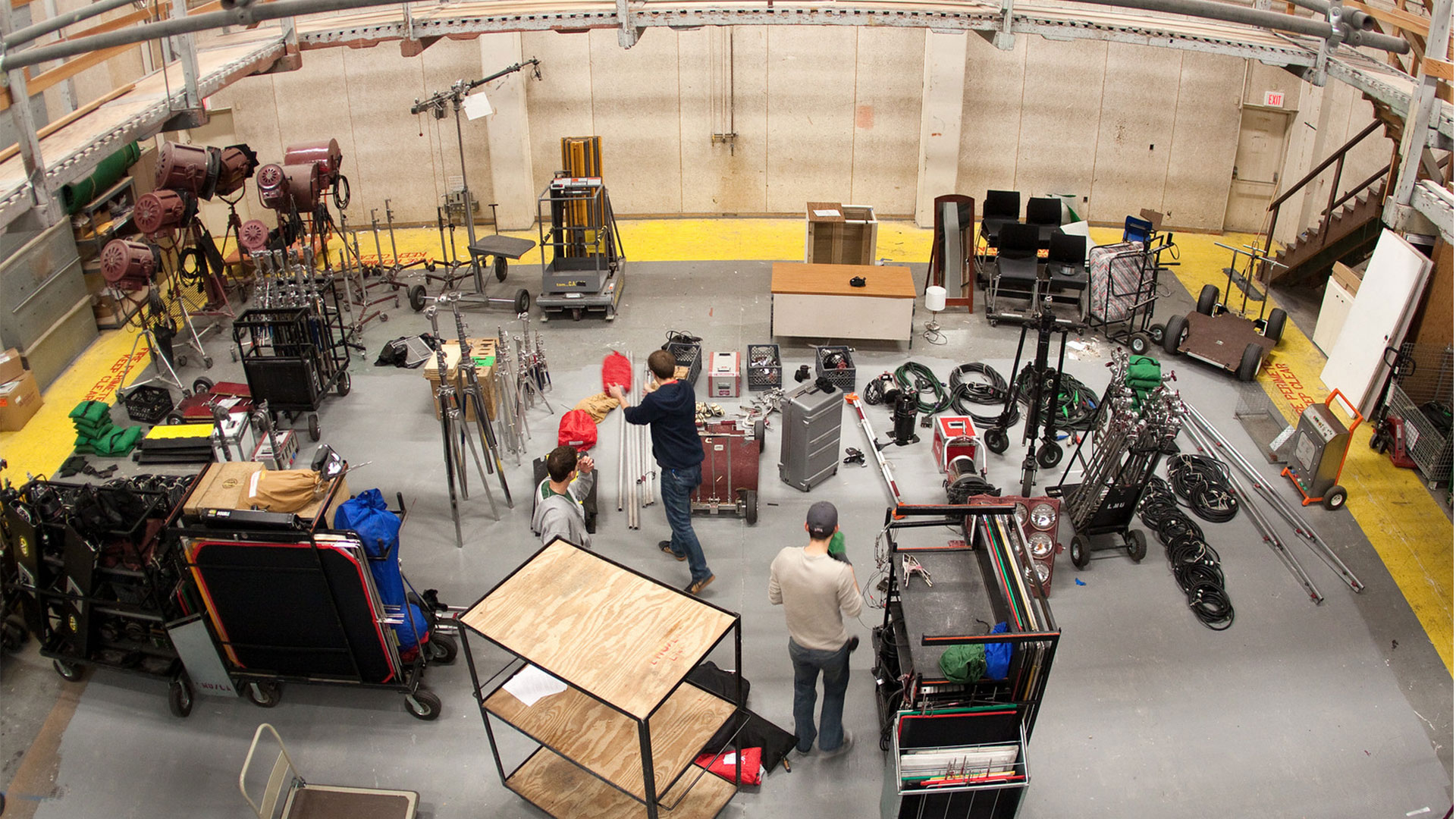 No matter what program you're in, you'll have access to state-of-the-art equipment and tools to bring your stories to life. Our staff and student workers can help you identify your project's needs from the earliest planning stages to filming to post-production.
Highlights
Cutting-edge tapeless workflow
16- and 35-mm film cameras
Virtual cinematography in our animation lab
Check out more details below.
We have three camera prep bays and a wide range of cameras that suit the needs of a wide variety of projects.

Digital Motion Picture Cameras

Arri Alexa Mini
RED One MX
Canon C300 MKII
Canon C100 MKII
Canon XF100

Film Motion Picture Cameras

Arri BL4s Super35
Arri SR2 Super16

Cinema Prime Lens Sets

Zeiss Ultra Primes
Zeiss Super Speeds
Zeiss CP2
Elite Super Speeds
Canon Cinema Primes

Cinema Zoom Lenses

Cooke 20-100mm
Angenieux EZ 15-40mm & 30-90mm
Canon 30-105mm
Zeiss 12-120mm

Our lighting and grip department has some of the most current and technically advanced lighting available in the industry. Below is a small sampling of what's available.

LED Lighting

Arri-Skypannels
Arri LED interview kits
Kino Flo Celeb-LED
Kino Flo Diva-LED/RGB
Mole Richardson-1x1 LED/Bi-color panels
Mole Richardson-LED Fresnels-650w-5000w-tungsten
Mole Richardson-Softlight-LED tungsten
Light Gear-Light Mat
Quasar Bi-color/RGB
Source 4-LED/RGB

HMI Lighting

Joker 400 and 800w
Sunray 1800w
Mole Richardson Par 1200w
Arri 1200w

Tungsten / Fresnel / Open-Faced / Fluorescent Lighting

Mole Richardson 650w up to 20k
Mole Richardson-softlights 750w up to 4k
Kino Flo-Diva Kino Flo 4x4. 2x4
Kino Flo-Image 45,80,85
Kino Flo-Para Zip 400
Digi Mole
Source 4
Par Cans
Coops
Space lights

Grip Support

Doorway dollies
Western/desert dolly
Matthews 4-camera slider
Matthews Duti-dolly
Dana dolly
Matthews centipede wheels
Traditional stands, hardware, flags, and more

Our laboratory offers virtual cinematography, one of the first animation labs in the world to have this capability.

4,000+ square foot premiere studio designed by Gensler
Render farm—30 nodes rendering animation frames
Motion capture/stop motion stage with Natural Point OptiTrack system and LED lighting instruments

Our two campuses have ample facilities for helping you turn your footage or rough cuts into smooth, polished final work.

Westchester Campus

Editing Computer Lab with 16 iMacs and 4K Side Monitors
Sound Editing Computer Lab with 18 Base Model iMacs
Multi-Purpose Computer Lab with 16 Base Model iMacs and a central conference table
Four editing suites with iMac Pros, Reference Monitors, 4K TVs, and Black Magic Micro-panel Coloring Surfaces
Four editing suites with iMac Pro, Reference Monitors, 4K TVs, and Tangent Element Coloring Surfaces
One advanced edit suite with iMac Pro, Reference Monitor, 4K TV, and Tangent Element Coloring Surface. Advanced Color Correction Suite

Playa Vista Campus

Editing Classroom / Computer Lab with 12 iMacs and 4K Side Monitors, 5.1 surround sound
Sound Editing Classroom / Computer Lab with 18 iMacs; teacher's station has Avid S6 and attached Foley / ADR room; theater-quality 7.1 Surround Sound
Eight editing suites with iMac Pros with dual-screen setup, HP Z31 Dream Display reference monitors, and BlackMagic Micro Color Control Surfaces
Mix Stage (seats 12) with Mac Pro, Avid S6 Mix Console, Projector and theater-quality 7.1 surround sound
Foley / ADR Stage with Mac Pro, Avid C|24 Mix Console, 5.1 surround sound, four microphone inputs, four headphone outputs, Sennheiser MKH 416 and Neumann TLM-102 in each stage, multiple walking surfaces and props.
Color Correction Suite with iMac Pro, Advanced HP Z31 Dream Display reference monitor, Christie 2K projector, and Tangent Element Coloring Surface